Acura Dealers: Please enter the site from the iN or eMall system for dealer specific content and pricing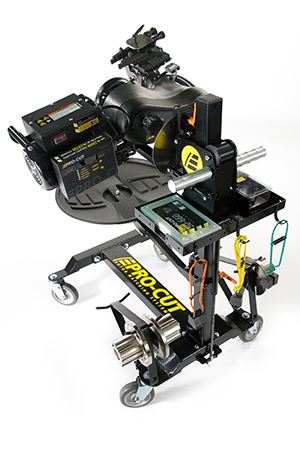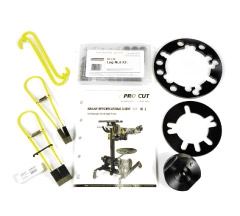 Item shown may not be actual product.
Product and price information are subject to change without notice.
---
$10,318.00
*
*log in for dealer pricing
PFM 9.2 On-Car Brake Lathe Package
---
Description
The PFM 9.2 DRO On-Car Brake Lathe platform provides flexibility to add the features that best serve your technicians, your clients, and your bottom line. The base unit is a midsized lathe with all the bells and whistles, including fixed-post trolley, speed-lock cutting head, and electronic reporting that monitors lathe use, efficiency, and ROI. In addition, this package comes complete with an Accessory Kit and three piece Honda/Acura Adapter Package, that was specially designed to meet Honda/Acura refinishing requirements.
Features
DRO (Digital Read Out) computer with digital display of live run-out and "odometer" readings that provide motor hours, number of cuts, average comp time, and ROI data. Live run-out provides assurance that manufacturer specs are met with every brake job, reducing customer comebacks. The odometer allows you to track the performance of the lathe so you can measure profitability and schedule maintenance when needed.
Speed-lock cutting head requires no hand tool set-up and adjusts with one hand. Set up is faster and more accurate with fewer hassles for the technician.
Fixed post, disc-lock trolley features sealed bearings, a positive locking mechanism, and fixed post to accept the GYR upgrade. Also provides a wider base for greater stability and new carriage design for perfect zero gravity effect.
1.0 HP motor has all the power you'll need and the convenience of 110V electrical supply.
Sculpted lathe body with built in handles provides natural vibration dampening and is virtually indestructible.
Includes
Options
Warranty
One year manufacturer warranty on parts and labor.
Training and installation by the manufacturer is included for this lathe package.
Product Specifications
Carriage Speed: 0.005" / rev.
Spindle Speed: 123 r.p.m.
Rotor Diameter (Maximum - Minimum): 17.2" - 4"
Rotor Thickness (Maximum - Minimum): 1.75" - 0.2"
Motor: 1.0 HP
Electrical Supply: 120V / 1 PH / 60 Hz
Maximum Depth of Cut: 0.020" / Side

Ensure the bores of the adapters are clean and free of rust build-up. Proper mounting requires the removal of rust and debris from vehicle hub.

The specially designed three piece Honda/Acura Adapter Package (PCI503ADPHO) must be used on PFM 9.2 and newer to achieve Honda/Acura refinishing requirements.

Meets Honda/Acura on-car brake rotors refinishing requirements, the only approved method to refinish front rotors. Refer to Service Bulletin 00-088 for Honda, and 00-037 for Acura.