Acura Dealers: Please enter the site from the iN or eMall system for dealer specific content and pricing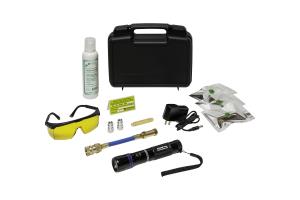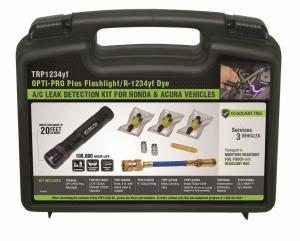 Item shown may not be actual product.
Product and price information are subject to change without notice.
---
Discontinued
Superseded to
TRP1234YFA
R-1234yf Leak Detection Kit
---
Product discontinued, to be replaced by new kit. Lead-time 90 days.
Description
Tracer Products, the world's leak detection leader, brings you this complete kit equipped with everything needed to pinpoint refrigerant leaks in R-1234yf air conditioning systems. Add florescent dye to the system, let it circulate, then scan components, hoses and lines with the included leak detection flashlight. All leaks are revealed with a brilliant glow! To verify fix, the dye safely remains in the system following repairs. Kit supplied to service three vehicles, additional dye capsules can be ordered, see "Includes" for part number.
Features
High-intensity, rechargeable Li-ION battery, True UV (violet light) leak detection flashlight with a 20' inspection range
Co-solvent free, R-1234yf, single-dose Mini-EZ™ disposable fluorescent dye cartridges
R-1234yf low-side hose/coupler with purge fitting for fast, easy, and mess-free dye injection. Made of non-corroding, long lasting refrigeration-grade hose and brass hardware.
Environmentally friendly dye cleaner/remover removes all traces of dye from repaired leak sites so repairs can be verified
Includes
TRP8655 OPTI-PRO Plus - cordless on-board charging, true UV LED flashlight with lithium-ion rechargeable battery, smart AC charger and fluorescence enhancing glasses
TRP9845 EZ-Ject™ Injector Assembly
TRP128021 R-1234yf Hose/Coupler (8") with Check Valve and Purge Fittings
TRP121107 Medium Black Carrying Case
TRP120884 GLOW-AWAY™ Dye Cleaner 8 oz.
(3) R-1234yf Mini-EZ™ Dye Cartridges
Underhood Labels (not shown)
Replacement Items
Warranty
One year limited warranty
Product Specifications
Case Dimensions: 10-1/2"W x 8-1/4"H x 3-1/4"D
Weight: 2.6 lbs.

Honda Dealers: See Service Bulletin 07-030 A/C Leak Detection
Acura Dealers: See Service Bulletin 07-025 A/C Leak Detection
This leak dye kit is not to be used in A/C systems using an electrically driven compressor.