Acura Dealers: Please enter the site from the iN or eMall system for dealer specific content and pricing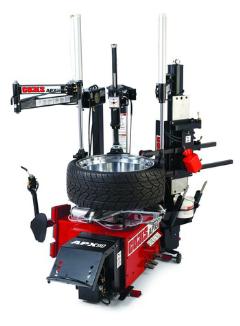 Item shown may not be actual product.
Product and price information are subject to change without notice.
---
$20,456.00
*
*log in for dealer pricing
Tire Changer, Electric
---
Description
The AMMAPX90E was designed to change the toughest runflats and extra-large custom wheels with ease. Without strenuous effort and without damage to expensive custom wheels. Not only are these tough jobs made easy, but the AMMAPX90E makes quick and efficient work of conventional tires and wheels. The Coats AMMAPX90E provides a path to increased shop efficiency and profitability, enabling you to service virtually any job that comes in your shop.
The AMMAPX90E can handle nearly any application, with the ability to service wheels from 9" to 30" externally and without the need for additional adapters. At the same time it provides an ergonomic user experience with intuitive and easy to operate features, so that you can focus on changing tires without complicated training issues. Capacity, Productivity, and Protection—the AMMAPX90E delivers on all counts.
Features
Large clamping capacity
Hi torque electric turntable
Three position bead loosener
Integrated wheel lift
Duckhead® roller
RoboArm®
RoboRoller®
Horizontal power rollers
Ergonomically positioned foot pedals & helper controls
Includes
Accessories
Warranty
Tire Changer - One year on most parts; 90 days on air chuck, belts, & gauges; five years on transmission
Consumable items - Not warranted
Product Specifications
Maximum rim diameter: 9" - 30" External; 11" - 32" Internal
Maximum rim width: 16" maximum
Maximum tire diameter: 44" maximum
Electric drive system: 2HP high-torque, 110v, single phase, 25 amp.
Air source (Electric Model): 2HP compressor, 110 to 175 PSI, 5 SCFM @ 150 PSI
Bead loosening: Exclusive hand actuated 8" dual action cylinder design for wheels up to 16" wide.
Operating footprint: 90" x 102"
Shipping weight: 1,510 lbs.