Acura Dealers: Please enter the site from the iN or eMall system for dealer specific content and pricing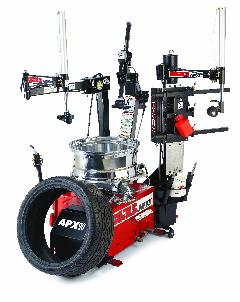 Item shown may not be actual product.
Product and price information are subject to change without notice.
---
Discontinued
Coats Michelin® PAX System™ Tire Changer
---
Description
The Coats APX90E with the Michelin PAX System accessory kit was designed so that a single technician, without strenuous effort or damage to expensive custom wheels, can change Michelin PAX System tires, extra-large custom wheels, and other tough tire-/wheel assemblies. Not only are the toughest jobs made easy, this tire changer makes quick and efficient work of conventional tires and wheels, giving you maximum versatility. It provides a path to increased shop efficiency and profitability, enabling you to service all Honda tires and virtually any tire job that comes into your shop.
As tires and wheels get larger and heavier, they also get harder to change. With multiple power helpers, the AMMAPX90PAXH helps you work faster and more efficiently. And, since this changer has evolved from the most popular family of tire changers in the United States, it is intuitive and easy to operate. The helper devices give the technicians the flexibility to use all, some, or even no helpers at all, allowing them to focus on their customer rather than on complex training.
Features
Clamping capacity of 9" to 30" external and 11" to 32" internal for servicing today's wide range of tires & wheels
Industry-prevailing Rim Clamp® style operation means a short learning curve for technicians
Rim Clamp Tabletop provides constant clamping pressure and does not require additional expensive adapters to mount different rim types
Applies smart ergonomics, with intuitive controls located at the point of actuation - only requires one operator regardless of tire size/difficulty
Rim Clamp system provides constant clamping pressure and can easily handle special applications such as negative offset or reverse mount rims without additional adapters or awkward working height
Three-position Bead Loosener - Exclusive design enables complete power in, power out, and stop control over the bead loosening shoe for increased productivity
RoboArm - Applies direct pressure from cylinder to create bead lock and provide extra leverage on runflat & low profile tires
Duckhead Roller® - Keeps bead in drop center on runflats and low profile tires
Horizontal Rollers - Provides easy bead and rim lubrication, assists in mounting, and demounts lower bead without tire tool
Wheel Lift - Reduces operator fatigue and potential wheel damage
Four self-cleaning , self-centering wheel clamps in table top actuated by two pneumatic cylinders
Filter lubricator (standard) with automatic drain and large capacity lubricator bowl
Includes
Warranty
Tire Changer - One year on most parts; 90 days on air chuck, belts, & gauges; five years on transmission
Consumable items - Not warranted
Product Specifications
Approximate shipping weight: 1,150 lbs.
Wheel clamping diameter range: Up to 30" wheels
Internal clamping: 11-32"
Maximum tire diameter: 44"
High torque drive system: 2HP, 100V, single phase, 20 amp
Operating footprint: 90" x 102"
External clamping: 9-30"
Maximum tire width: 16"
Required air source: 5 SCFM @ 150PSI