Acura Dealers: Please enter the site from the iN or eMall system for dealer specific content and pricing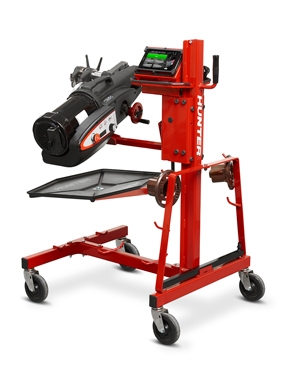 Item shown may not be actual product.
Product and price information are subject to change without notice.
---
$13,194.50
*
*log in for dealer pricing
AutoComp Elite™ Passenger Brake Lathe
---
Description
The Hunter AutoComp Elite™ On-Car Brake Lathe system keeps your brake service a cut above the rest. This is the first brake lathe to introduce Hunter's revolutionary Anti-Chatter Technology to provide a smoother surface finish. The AutoComp Elite™ virtually eliminates the buildup of vibration (chatter) that can occur when machining rotors at a fixed speed. The AutoComp Elite™ can service each rotor in less than nine minutes and also utilizes exclusive precision machining and Hunter's patented Variable-Speed Drive System to service rotors at the fastest possible speed without sacrificing quality.
Features
Automatic Compensation

Directly determines compensation and eliminates 'wandering'
Consistent compensation times average under 12 seconds

Touchscreen Interface

Intuitive touchscreen interface simplifies lathe operation
On-board training videos
Adapter and vehicle specification lookup

Anti-Chatter Technology (ACT)

Oscillates machining speed to prevent buildup of vibration (chatter)
No bands or other devices required

Variable-Speed Drive System

Avoid differential lock-ups by cutting at lower speed
No need to disassemble drive train

Convenient Controls

Control lathe operation via the on-board control panel or tablet interface
Controls are always upright and easy to read on both sides

BitMinder

Track cutting bit usage to ensure cut quality and minimize expense

Precise Machining

Unique, stepped cutting pattern prevents radial "push-out" effect
True one cut pass
No sanding needed

Reverse Rotation

Service more vehicles with significant driveline drag
Turn axles that can only be turned in reverse
Includes
HUN1754921 Adaptor - 4 slot covers most vehicles with 4 lug bolt patterns;
4x98 mm, 4x100 mm, 4x4.00", 4x4.25", 4x110 mm, 4x4.50", 4x114.3 mm, 4x120 mm
HUN1754931 Adaptor - 5 slot covers most vehicles with 5 lug bolt patterns;
5x100 mm, 5x4.25", 5x110 mm, 5x112 mm, 5x4.50", 5x114.3 mm, 5x115 mm, 5x120 mm, 5x4.75"
Upgrade to the ACEPRO by purchasing the following adapters:
Warranty
Call the Hunter Customer Service Department at 1-800-448-6848 for specific warranty information.
Product Specifications
Rotor Diameter: 15.75" (400 mm)
Motor: 1.5 hp (1.12 kw) at 3450 rpm
Trolley Dimensions: : 27.3" W x 30" L (693 mm W x 762 mm L)
Power Requirements: 115V, 15A, 60Hz, 1 ph NEMA 5-15P plug provided (230 V, 50-60 Hz optional)
Spindle Speed: : Adjustable and auto variable (ACT), 0-150 rpm reversible
Included Tablet: : 7" display with Android® OS
Lathe Dimensions: : 20" W x 15" H x 27" L (508 mm W x 381 mm H x 686 mm L)
Rotor Max Width: 2.75" (70 mm)
Feed Distance: 4.3" (109 mm)
Max Runout Compensation: .020" (0.5 mm)
Spindle Height, High Range: : 24.5"- 40.5" (622 - 1029 mm)
Shipping Weight: 302 lbs.
Spindle Height, Low Range: : 20.25" - 36.25" (514 - 921 mm)

Meets Honda/Acura on-car brake rotors refinishing requirements, the only approved method to refinish front rotors. Refer to Service Bulletin 00-088 for Honda, and 00-037 for Acura.