Acura Dealers: Please enter the site from the iN or eMall system for dealer specific content and pricing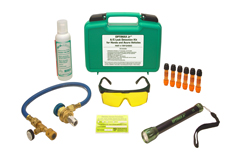 Item shown may not be actual product.
Product and price information are subject to change without notice.
---
Discontinued
Superseded to
TRP124893A
R-134a Optimax Jr A/C Leak Detection Kit
---
Description
Tracer Products, the world's leak detection leader, brings you this complete kit equipped with everything a technician needs to pin point refrigerant leaks in air conditioning systems. Add fluorescent dye to the system, let it circulate, then scan components, hoses and lines with the included leak detection flashlight. All leaks are revealed with a brilliant glow! To verify fix, the dye safely remains in the system following repairs.
Features
High intensity, cordless, ultra-compact leak detection flashlight with 100,000-hour LED bulb which provides over four hours of peak performance with fresh batteries (3 AA alkaline - not included).
OEM approved, co-solvent free Fluoro-Lite R-134a/PAG dye in easy, single-dose, pre-filled disposable dye capsules.
R-134a low-side universal connect set for fast, easy, and mess-free dye injection. Made of non-corroding, long-lasting refrigeration-grade hose and brass hardware.
Environmentally friendly dye cleaner/remover removes all traces of dye from repaired leak sites so repairs can be verified
Includes
TRP8640CS Optimax Jr. leak detection flashlight
TRP3887 R-134a universal connect set
TRP120884 (1 bottle) Glow Away dye cleaner/remover
TRP9940 (1 pair) fluorescence enhancing glasses
TRP122955 (1) empty tracer-stick dye capsule for purging purposes
TRP1143 Green plastic carrying case
(6) Tracer-Stick R-134a/PAG A/C dye capsules (0.06 oz)
Under hood labels
Replacement Items
TRPTP3860P12 (6) Tracer-Stick R-134a/PAG A/C dye capsules (0.06 oz)
Warranty
Five year limited warranty.
Product Specifications
Case dimensions: 8-1/2"h x 10-1/4"w x 3-1/4"d
Weight: 2.7 lbs.

Honda Dealers: See Service Bulletin 07-030 A/C Leak Detection
Acura Dealers: See Service Bulletin 07-025 A/C Leak Detection
The only Honda-approved A/C dye in Honda vehicles.
Florescence enhancing glasses help optimize fluorescent response of dye.
Effective UV-fluorescent leak detection requires enough refrigerant in the A/C system to operate the compressor and circulate the dye throughout the unit.
After completing the air purging process, the hoses will be "pre-purged" and will retain a holding charge for future injections, as long as the control valve remains closed.
Depending on the size of the leak, some vehicles may require longer operation of the A/C system for the dye to penetrate.