Acura Dealers: Please enter the site from the iN or eMall system for dealer specific content and pricing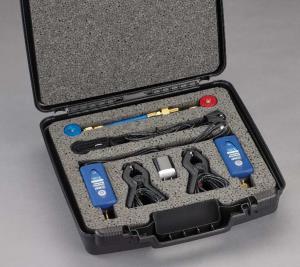 Item shown may not be actual product.
Product and price information are subject to change without notice.
---
$668.00
*
*log in for dealer pricing
ManTooth™ Wireless A/C Pressure/Temperature Gauge Automotive Kit for R-134a
---
Description
The Yellow Jacket® ManTooth™ Wireless A/C Pressure/Temperature Gauge Automotive Kit use bluetooth technology and an app to provide service centers and technicians the ability to perform an accurate R-134a vehicle A/C system check in less than three minutes (on average). The automotive ManTooth kit utilizes a free downloadable app to calculate and display the system's actual readings in an easy-to-read format on your iPhone, iPad, or Android device. Adding this to your current courtesy inspection or multi-point inspection process on every vehicle that rolls up to your shop is efficient and easy. It provides exact A/C system health status for your customer and maximizes that opportunity to up-sell additional A/C service.
Features
Two wireless bluetooth gauges
High impact glass reinforced housing
Integrated rubber boots for easy handling
Rechargeable LiPo battery rated for eight hours of continuous use
5" hoses to minimize refrigerant loss
Two temperature clamps
Strap temperature probe for temperature measurements in tight locations
Two hook and loop straps for securement of the ManTooth modules during on the-road A/C testing
AC charging adapter and USB cord
Rugged case to protect the equipment when not in use
Includes
Warranty
Two year warranty on parts and labor.
Product Specifications
Battery Life: 10+ hours continuous
Battery: Rechargeable LiPo battery for long battery life and excellent recharging capability for the life of your ManTooth
Bluetooth Radio: Class 1 bluetooth 2.1 radio
Burst Pressure: Tolerable pressure without loss of seal 1500 psia
Dimensions: 15"L x 14.5"W x 4"T
Evaporator/Condenser Temp. Differential: Automatically calculated by the ManTooth app
IP Class: IP 50
Max. and Min. Pressures: Displays and records the maximum and minimum pressures
Pressure Sensing Accuracy: 0.5% of full scale at 25°C; 1% of full scale at 55°F to 130°F; 2% of full scale at -40°F to 248°F
Pressure Sensing Resolution: 0.1 p.s.i, 0.1 bar, 1 kPa, 0.001 MPa, 0.01 kg/cm^2
Pressure Transducers: Two
Pressure Zeroing: Simple single button zeroing at the start of each session
Proof Pressure: Tolerable pressure without internal damage 1000 psia
Range: Nominal 30 feet (limited by phone or tablet bluetooth radio strength)
Screenshot Feature: Save pressure and temperature readings from your sessions which can be automatically organized by location and unit being serviced
Storage Temperature: -4°F to 160°F (-20°C to 71°C)
Temperature Accuracy: ±0.2°C (±0.36°F)
Temperature Display Resolution: 0.1°F or °C
Temperature Sensor Range (max clamp temp): 203°F (95°C)
Temperature Sensor Range (max cord temp): 176°F (80°C)
Temperature Sensors: Capable of measuring two temperatures using high accuracy NTC thermistors
Tolerable pressure without loss of seal 1500 psia: 40°F to 266°F (-40°C to 130°C)
Weight: 4.7 lbs
Working Humidity: 0-95% RH (non-condensing)
Working Pressure: 0 - 700 psia (48.3 bar)
Working Temperature: -4°F to 160°F (-20°C to 71°C) limited by battery