Acura Dealers: Please enter the site from the iN or eMall system for dealer specific content and pricing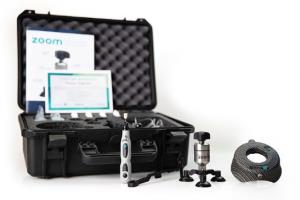 Item shown may not be actual product.
Product and price information are subject to change without notice.
---
$1,251.00
*
*log in for dealer pricing
Zoom Professional Windshield Repair Kit
---
Item Number:
GLWGWW33140
Supplier:
GLASWELD
Description
The Professional Windshield Repair Kit comes with everything you need to tackle both rock chips and cracks. Featuring the award-winning Zoom injector and ProCur+ curing light, even beginners can complete amazing repairs in just minutes. This kit includes supplies for up to 200 repairs.
Features and Benefits
Innovative Design

The Zoom's streamlined design makes it easy to do more repairs in less time.

Powerful Vacuum

The Zoom holds a vacuum throughout the entire repair process, even while resin is being injected, so that air can never re-enter the break.

Simple Process

To use the Zoom, simply mount it over the break, thread up to pull a vacuum, and thread down to inject resin. It's that easy.

Foolproof Features

The Zoom features click-in mounting so that you don't have to worry about causing the damage to spread.

Durable Build

The Zoom body is made in America with durable stainless steel.
Includes
ProVac Zoom Injector (lifetime warranty) and Stand
ProCur+ LED UV Curing Light and USB Adapter
2010 All Weather Amber Resin (15 ml)
2010 All Weather Gray Resin (15 ml)
Pit Filler (15 ml)
Pit Polish (15 ml)
Resin Guard Skin Protectant (60 ml)
Corner/Edge Extension Tool
Moisture Evaporator
Drill and Polishing Pack with USB Cord and (5) Carbide Drill Bits
UV Blocker Shell
Mirror with Suction Cup
(2) Probes (fixed tip and replaceable tip)
Polishing Cork
Zoom Seal Set
Injector Seal Lube
Window Cleaner (120 ml)
Injector Cleaning Kit
(6) Razor Blades
(30) Film Tabs
Suction Cup Sealant (60 ml)
Safety Glasses
Medium Ballistic Case with Custom Foam
Zoom Quick Start Guide
Online Training

Warranty
Lifetime Warranty - All GlasWeld injectors come with a lifetime warranty.
Additional components are warranted separately.

Product Specifications
Dimensions: 18"W x 14"D x 6"H (457.2 x 355.6 x 152.4 mm)
Weight: 11.5 lbs. (5.23 kg)