Acura Dealers: Please enter the site from the iN or eMall system for dealer specific content and pricing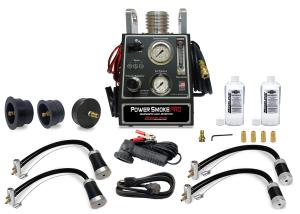 Item shown may not be actual product.
Product and price information are subject to change without notice.
---
$3,992.00
*
*log in for dealer pricing
PowerSmoke Pro with Accessory Kit
---
Description
The PowerSmoke Pro™ is specifically engineered to test the integrity of turbo, boosted, high pressure automobile systems in one quick procedure, with the engine safely off. PowerSmoke Pro™ adaptors expand to seal off the intake and exhaust system of most every automobile and light / medium duty trucks. Variable pressure, variable flow to allow the technician to replicate a load to pinpoint leaks and find failing components.
Features and Benefits
PowerSmoke Pro™

Specifically for boosted automobiles
Variable pressure | variable flow
40X typical EVAP pressure
Compact, rugged design
Professional grade strong
Free of dyes and contaminants
Performs decay / leak down tests

Simple operation:

Maintains operator safety with the engine off
Easily detects leaks that an EVAP type machine cannot

Multiple adaptors quickly locate:

Turbo / boost leaks
Charge air cooler leaks
Exhaust system leaks
Wind and water leaks
Cabin leaks
Intake system leaks
Seals, gaskets, hoses, fittings and many more

Variable pressure settings to reproduce load:

Reduce diagnostic time
Increase fuel economy
Eliminate guess work and comebacks
Includes
RLD960205 77/81.5 mm Hard Intake Adaptor
RLD960206 67.5/80 mm Hard Intake Adaptor
RLD960208 77 mm Hard Intake Adaptor
RLD950080 1.5 Power Bladder Adaptor - Round
RLD950094 1.5 Power Bladder Adaptor - Oval
RLD960039 OEM - Approved Vapor Producing Fluid
RLD960084 Block-Off Coupler
RLD960011 Halogen Inspection Light
RLD200010 AC Power Cable
RLD800009 Hex Key
RLD150059 Oxygen Sensor Port Adaptor
RLD910006 Accessory Storage Case
Warranty
One year
Product Specifications
Dimensions: 9"W x 15"H x 9"D (22.86 x 38.1 x 22.86 cm)
Hosing Material: Steel
Machine Weight: 19 lbs. (8.62 kg)
Operating Humidity: No Restrictions
Operating Modes: Smoke Cycle / Air Only Cycle
Operating Temperature: 0°F - 140°F
Output Pressure: 2 to 20+ PSI (0.14 to 1.4 BAR)
Power Supply: 110-230V AC or 12V DC
Pressure Supply: Compressed Air
Smoke Chamber Assembly: Bolted
Smoke Chamber Material: Billet Aluminum
Smoke Chamber Warranty: Lifetime

Not for use on EVAP systems.